Das Pro - ultimate tailwind template for SaaS startups
DAS PRO is a powerful multipurpose HTML template for SaaS startups. It's a great choice if you want to build a landing page with a beautiful, modern and responsive layout.
The perfect landing page template for indie founders
As an indie founder, you know how important it is to have a great-looking website for your startup. But do you really want to waste your time on a design, when you could be building the actual product?
That's where DAS PRO comes into play. With its clean and modern design, it is a perfect choice for any SaaS product, whether it's a tweet scheduler, a data analytics tool, or a productivity app.
What people have said about our templates
What's inside?
Field-tested designs
We used our decade-long experience building, A/B testing, and tracking the performance over hundreds of landing pages to bring you the best landing page designs that will convert your visitors into customers.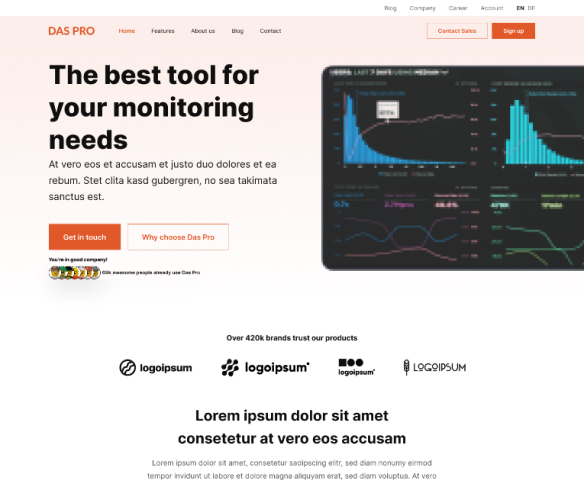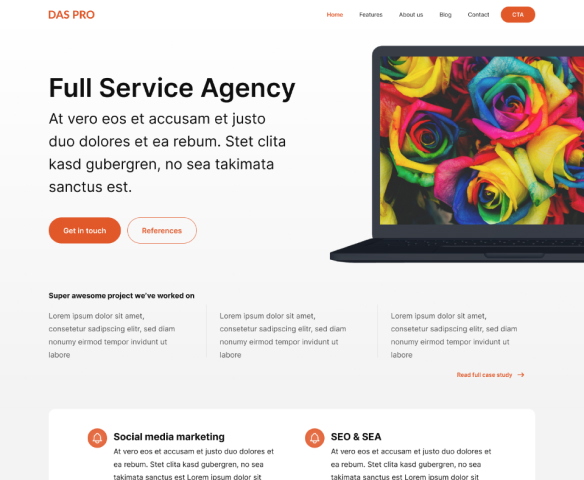 Explore more examples at das-pro.dev
50+ ready-to-use page templates
From hero blocks to pricing tables, from testimonials to FAQ pages, DAS PRO has everything you need to build a great-looking and high-converting website for your startup.
Сustomize IF you want
Built with Tailwind, DAS PRO allows you to easily customize it or integrate some of its parts into your existing projects. Too complicated? No worries — use the out-of-the-box version and don't bother.
There's more! DAS EMAIL for great email templates
If you're like any other SaaS, you'll likely need to send transactional emails to your customers. It might seem like a trivial task at first, but you'll soon realize that it's not. Unless you are a professional copywriter, you'll spend hours and hours writing, editing and A/B testing your emails — if you want them to work, of course. DAS EMAIL is a bundle of 5 basic email templates that will cover your initial emailing needs: onboarding, password reset, feedback request, feature announcement, and "before you go" emails.
$20.00 USD
Das Pro
50+ ready-to-use page templates
$35.00 USD
Das Pro + Das E-Mail
Same as Das Pro, plus 5 basic transactional email templates to get the talk going.